01 July, 2022
Fully Fitted DF100B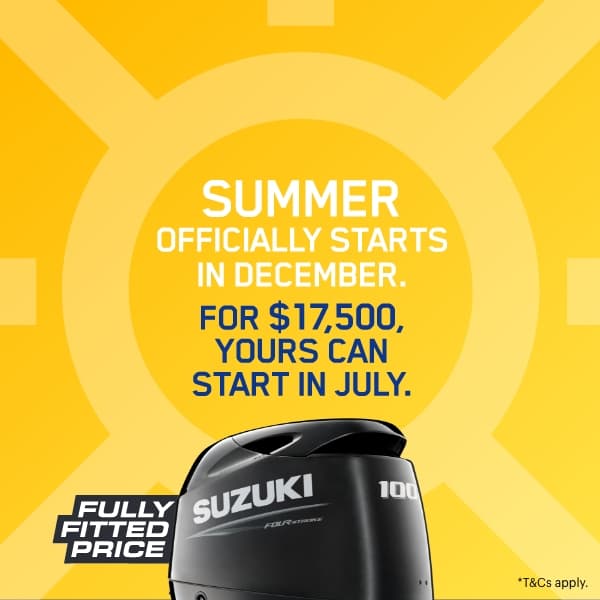 Summer might officially start in December, but why wait? Upgrade now to the powerful, quiet, and reliable 4-stroke Suzuki DF100B for just $17,500 Fully Fitted, with no deposit and 4.99% p.a. interest, and yours can start in July!
See the model details below or contact your local Suzuki dealership for more information.
DF100B Model InfoFind a dealer
T&C's Fully Fitted disclaimer: Offer is available on new Suzuki DF100BTL/X between 01/07/22 to 30/09/22. Price includes side mount control, analogue gauge, propeller, and boat fitting. Price excludes removal of previous outboard motor and controls, repairs to electrical systems, fuel system/dash repairs, or steering systems, and transom repairs. Finance disclaimer: An interest rate of 4.99% p.a. is available to approved applicants of UDC Finance. Offer is available between 01/06/22 to 30/09/22 on a loan term of 36 months, no deposit, and weekly payments of $123. Normal UDC lending and credit criteria apply and includes a $305 documentation fee and $10.35 PPSR. Excludes demo units and all other promotion. Available through participating Suzuki dealers, while stocks last.